Complaints, Compliments and Suggestions (CCS) Management Course
The first National Guideline to manage Complaints, Compliments and Suggestions (CCS) was published in 2017 and came into effect on 1 April 2018 and was revised in 2021 with implementation on 1 April 2022. The training module covers the content of the revised CCS guideline and outlines the procedure to follow to effectively manage CCS at different levels in the health system.
The overall objective of the guideline is to provide direction to the public health sector of South Africa regarding the effective management of CCS, to ensure that the right of patients and/or their families/support persons to complain is upheld and to gather valuable information from which the health system could learn to bringing about the required change to improve quality of care.
The key objectives are to cover the following:
Purpose
Scope
Definitions
Legal and policy framework
Guiding principles
Complaints management
Compliments and suggestions management
Requirements for a written standard operating procedure to manage CCS
Implementation by CCS committees
Monitoring and compliance
Use of the web-based information system
Requirements / prerequisites
There are no prerequisites for the course.

Device (cellphone, tablet, laptop, and/or desktop.

Accessing the course materials and recorded lectures online is free as the Knowledge Hub has been zero rated. An initial internet connection is required to connect to the KH.
Course content
The course has two modules as follows:
Module 1: Introduction, general overview and management
Background
Purpose
Legal and policy framework
Scope
Definitions
Committees
Complaints management
Compliment and suggestion management

Module 2: Implementation, reporting and learning
Implementation through Complaints, Compliments and Suggestions (CCS) Committees
Monitoring and compliance
Web-based information system
Target audience
Admin
CHW
Clinical Associates
Emergency Medical Service Practitioners and Technicians
Management
Medical Interns and Community Service Doctors
Nurses
Pharmacy
Physician/Doctors
Support Staff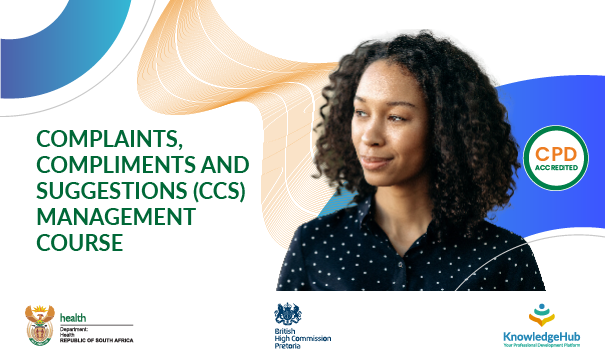 Date
27 June 2022 - 12:00 am
until
31 December 2023 - 12:00 am
Certificate offered
Certificate of Achievement