Basic HIV Course for Health Care Professionals
The Basic HIV Course for Health Care Professionals is designed to equip health care professionals with the knowledge necessary to initiate and manage patients on ART. The interactive online curriculum consists of seven modules, which focus on diagnosis, care, treatment, and management of HIV, TB and STI patients. The goal of the training is to enhance and strengthen the role of health care professionals in providing quality care to patients infected with HIV and other comorbidities.
The course is conducted using the following teaching and learning methods:
Lectures
Case studies
Videos
This curriculum includes clinical resources to support the health care professional in the clinic or hospital setting.
Requirements / prerequisites
There are no prerequisites for the course.

You will need a device (cellphone, tablet, laptop, and/or desktop) to access the course.

Accessing the course materials and recorded lectures online is free as the Knowledge Hub has been zero rated. An initial internet connection is required to connect to the KH.
Course content
WHAT IS HIV?
1.1. The Human Immunodeficiency Virus and its life cycle
1.1. Knowledge check
1.2. HIV transmission
1.2. Knowledge check
1.3. Stages of infection

PREVENTION OF HIV AND AIDS
2.1. Prevention measures
2.1. Knowledge check
2.2. Managing exposure to HIV

DIAGNOSIS
3.1. HIV Testing Services
3.2. HIV testing
3.2. Knowledge check
3.3. HIV clinical staging

ANTIRETROVIRAL THERAPY
4.1. What is antiretroviral therapy?
4.1. Knowledge check
4.2. Initiating ART
4.2. Knowledge check
4.3. VL monitoring, switching to TLD, and managing an elevated VL
4.4. Second-line ART
4.4. Knowledge check
4.5. Stigma and discrimination
4.6. ARV resistance

HIV AND OTHER DISEASES
5.1. Preventing and managing common opportunistic infections
5.1. Knowledge check
5.2. Managing common sexually transmitted infections
5.2. Knowledge check
5.3. HIV and airborne infections
5.3. Knowledge check
5.4. TB screening and TB preventive therapy
5.5. Managing TB in adults
5.5. Knowledge check
5.6. Managing TB in children
5.6. Knowledge check
5.7. HIV and non-communicable comorbidities

MOTHERS AND CHILDREN
6.1. Contraceptives and HIV
6.1. Knowledge check
6.2. Prevention of Mother to Child Transmission (PMTCT)
6.2. Knowledge check
6.3. Paediatric HIV

NUTRITION
7.1. Nutrition in the context of HIV
Target audience
Clinical Associates
Medical Interns and Community Service Doctors
Nurses
Pharmacy
Physician/Doctors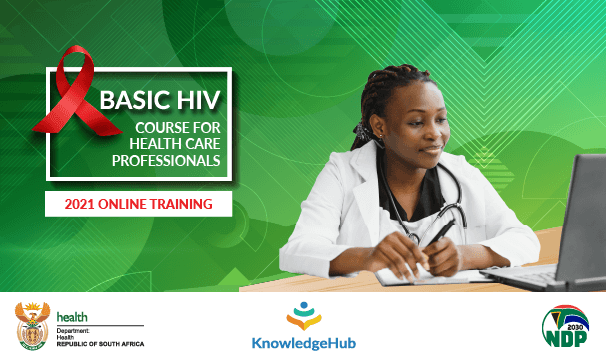 Date
21 October 2021 - 12:00 am
until
31 December 2023 - 12:00 am
Certificate offered
Certificate of Attendance
Delivery method
Blended (self-paced and live tutorials)