Antimicrobial Resistance (AMR) Awareness Module
This module was created to be broad enough to be accessible to all healthcare workers (HCWs) who deal with human patients or animals (either companion animals or
livestock), at any level of care, including public and private sectors.
More advanced training modules are being planned, aimed at healthcare workers who show an interest in becoming more actively involved in antimicrobial stewardship.
Requirements / prerequisites
There are no prerequisites for the course.

Device (cellphone, tablet, laptop, and/or desktop.

Accessing the course materials and recorded lectures online is free as the Knowledge Hub has been zero rated. An initial internet connection is required to connect to the KH.
Course content
This is a self-facilitated online course. You complete it at your own pace and in your own time. It should take you about three to six hours in total to complete and will be open for six weeks from registration to give sufficient opportunity to complete the course. There are no prerequisites for the course.
It is divided into nine unit and assessment quizzes:
Introduction
Unit 1: What is antimicrobial resistance and why should we care?
Unit 2: How can we deal with antimicrobial resistance? Infection prevention and control
Unit 3: How can we deal with antimicrobial resistance?
Unit 4: How can we prevent infections?
Unit 5: How can we use antimicrobials better?
Unit 6: What is empiric and directed therapy?
Unit 7: What AMR advocacy is happening?
Unit 8: How can we implement AMR prevention strategies?
Unit 9: How can we supply and dispose of antimicrobials?
Course objectives
This online training programme is designed to ensure that all HCWs have appropriate baseline antimicrobial and infection prevention and control (IPC) competency, to complement existing knowledge and skills by:
Increasing the level of understanding of AMR and IPC in all HCWs to engender best practices in their daily setting, regularly and consistently.
Ensuring the appropriate use of antimicrobials to reduce resistance, adverse events, and improve patient outcomes.
Ensuring understanding of the use and implementation of appropriate IPC measures to prevent transmission of microbes (including multi-drug resistant microbes) and reduce infections.
Ensuring appropriate use of laboratory services to optimize the use of antimicrobials.
Ensuring that HCWs understand and appreciate the multidisciplinary nature of antimicrobial stewardship, and the roles of each member in the stewardship team.
The target audience for this course are all HCWs registered with the following councils: Health Professions Council of South Africa (HPCSA); South African Nursing Council (SANC); South African Veterinary Council (SAVC); South African Pharmacy Council (SAPC).
Target audience
Admin
CHW
Clinical Associates
Emergency Medical Service Practitioners and Technicians
Management
Medical Interns and Community Service Doctors
Nurses
Pharmacy
Physician/Doctors
Support Staff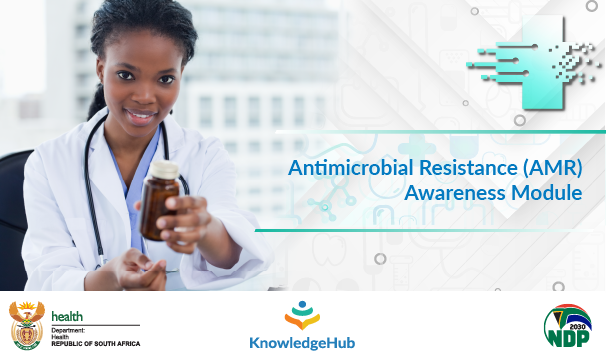 Date
31 December 2021 - 08:00 am
until
31 December 2023 - 12:00 pm
Certificate offered
Certificate of Achievement