Advanced Clinical Care (ACC) Programme for Healthcare Professionals – 2022
The ACC Programme for healthcare professionals was designed to strengthen the South African Government's ability in addressing challenges of sustainable clinical capacity within the National Department of Health in the context of a rapidly maturing HIV and TB epidemic. The curriculum will focus on providing healthcare professionals with the core knowledge and skills required to diagnose and manage unstable HIV patients with commonly observed opportunistic infections and other co-morbidities, in addition to those failing antiretroviral treatment (ART).
The ACC HIV management course is essential to improve the clinician's capacity to deliver quality care to complex care patients. Capacitating clinicians with advanced clinical care skills and knowledge is essential to reduce morbidity and mortality rates amongst patients with complex and advanced HIV disease.
It is recommended that all healthcare workers registering for this course must have completed the NIMART or Basic HIV training and preferably be engaging with HIV positive patients. To register for Basic HIV, please click here.
Requirements / prerequisites
Device (cellphone, tablet, laptop, and/or desktop).

Accessing the course materials and recorded lectures online is free as the Knowledge Hub has been zero rated. An initial internet connection is required to connect to the KH.

Participants must complete all 25 sub-modules assessments/quizzes and course evaluation. To qualify for a certificate of completion, you must:
- complete all self-study materials and view/download all module resources.
- complete a quiz for each module.
- complete the course evaluation.
Course content
The ACC curriculum consists of 25 sub-modules. The overall goal of this training is enhanced clinical competency to manage complex patients with HIV and HIV/TB in all population groups (adults, children, adolescents, and pregnant women). The training curriculum will provide healthcare professionals with an approach towards the assessment, investigation, and management of patients with advanced HIV disease and common infections, complications, and comorbidities in each organ system.
Module 1 – Core topics
Module 1.1. Epidemiology
Module 1.2. Principles of antiretroviral therapy
Module 2 – Management of the HIV-positive person with advanced disease
Module 2.1. General approach to the hospitalized HIV-positive person
Module 2.2. Management of the HIV-positive person with respiratory symptoms
Module 2.3. Management of the HIV-positive person with a positive serum cryptococcal antigen
Module 2.4. Management of the HIV-positive person with headache and other neurological symptoms
Module 2.5. Management of the HIV-positive person with generalized systemic symptoms
Module 2.6. Management of the HIV-positive person with liver disease
Module 2.7. Management of the HIV-positive person with kidney disease
Module 2.8: Management of the HIV-positive person with cytopenia
Module 2.9. Management of the HIV-positive person with clinical deterioration after initiating HAART
Module 3 – Management of treatment failure and HIV drug resistance
Module 3.1. Epidemiology of HIV drug resistance
Module 3.2. Principles of HIV drug resistance testing and interpretation
Module 3.3. Management of patients with high viral load
Module 3.4. Management of adult patients failing an NNRTI based regimen
Module 3.5. Management of adult patients failing a dolutegravir based regimen
Module 3.6. Management of patient failing a protease inhibitor-based regimen
Module 3.7. Management of a patient with a high viral load with clinical co-morbidities
Module 3.8. Management of low-level viraemia
Module 3.9. Management of treatment failure in the pregnant woman
Module 3.10. Management of treatment failure in infants, children and adolescents
Module 4 – Special challenges with antiretroviral therapy
Module 4.1. Adverse drug reactions
Module 4.2. Drug-drug interactions
Module 4.3. Management of HIV and hepatitis B virus coinfection in the context of chronic kidney disease
Module 4.4. Neonatal challenges
Target audience
Clinical Associates
Management
Medical Interns and Community Service Doctors
Nurses
Pharmacy
Physician/Doctors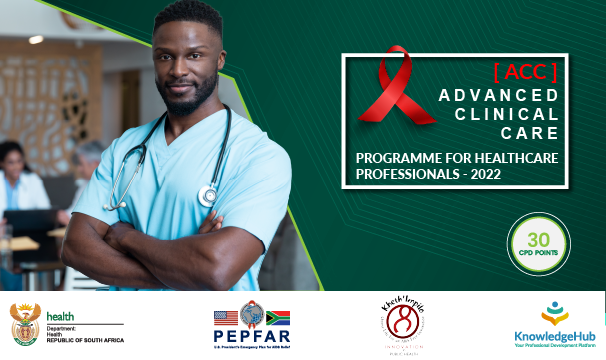 Date
02 August 2022 - 12:00 am
until
31 December 2023 - 12:00 am
Certificate offered
Certificate of Achievement
Delivery method
Blended (self-paced and live tutorials)