Adult Primary Care 2020 Full Course
This course has been created for health care workers who are not exposed to APC training. This online course was developed to support the provision of health-related services and is reasonably believed to represent appropriate healthcare practices at the date of first publication, 30 September 2020.
If you have had APC training previously, please self-enrol on the Adult Primary Care 2020 Update here.
Requirements / prerequisites
Device (cellphone, tablet, laptop, and/or desktop).

Accessing the course materials and recorded lectures online is free as the Knowledge Hub has been zero rated. An initial internet connection is required to connect to the KH.
Course content
This course contains 27 cases and 3 activities. This training programme aims to:
Orient and familiarise you to the features of APC
Encourage you to practice navigating APC using case scenarios
Build your confidence using APC.
Support health systems strengthening.

This course is designed to be done over a number of sessions, so we suggest that you set aside about 2 hours at a time and work through the cases and activities over the course of a few weeks.
You will get a certificate on completion of the course.
Please note: you need to complete this course using your own personal account, even if you are working in a group, in order to get a certificate. Only the account holder will receive a certificate at completion.
Target audience
CHW
Clinical Associates
Emergency Medical Service Practitioners and Technicians
Medical Interns and Community Service Doctors
Nurses
Pharmacy
Physician/Doctors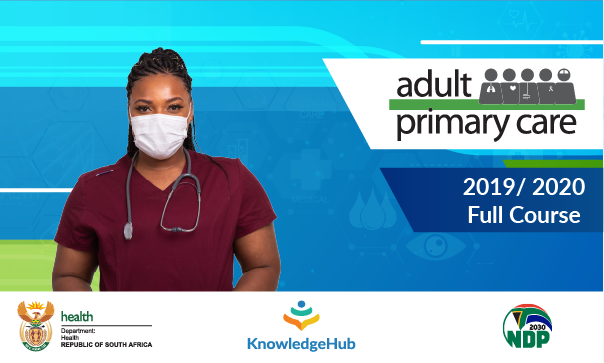 Date
19 April 2022 - 08:00 am
until
30 August 2023 - 12:00 am
Certificate offered
Certificate of Attendance